← Home
My Geometry Daily Workflow
After eight months and 240 posts it is about time I start writing about what happens behind the scenes of Geometry Daily. Many were asking about my workflow, particularly how the vector images are processed to get that analog look.
Ideation
First, I try to catch every bit of inspiration somewhere. Working on geometric designs on a daily basis made me sensitive to absolutely anything that could lead to a visual idea. I take photos, make a sketch, or write it down. Huge messy heaps of inspirational bits grow everywhere, analog as well as digitally.

Screenshot from one of my draft files
On my MacBook's hard drive there is a series of Adobe Illustrator files that I work on whenever I have some minutes free. All ideas gather here side by side in a happy colorful crowd. The rough development and selection happens here, along with lots of experimentation and serendipity.
Working on the vector graphics
In Illustrator I already use "Multiply" and transparency on the shapes to simulate overprinting of transparent inks. If one piece feels ready, it is copied to its own seperate Illustrator file, then brought into a new Photoshop file. Each color is transferred seperately by copy/paste.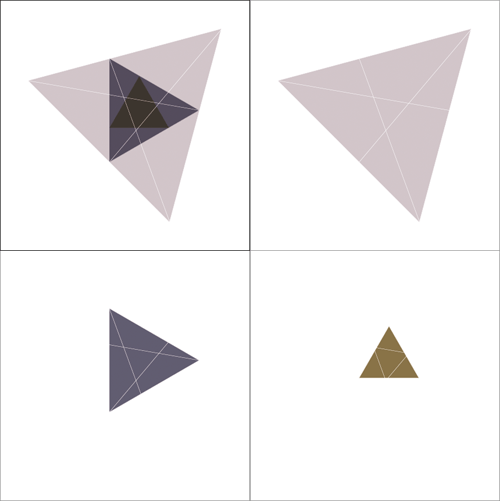 The full vector graphic (top left) and the three color layers separated
Simulating the printing process
To make the graphics look more real, I decided to simulate silk screen printing on rough paper. The starting point in photoshop is a template with eight slightly different paper backgrounds. For that purpose I took photos of real square sheets of aquarell paper. The details make them look very real: the edges, the paper texture, the shadows underneath, the little bits of dust. The colors are pasted in one by one as "vector smart layers". Again the fill method "multiply" and alpha blending are used to simulate printing on the paper.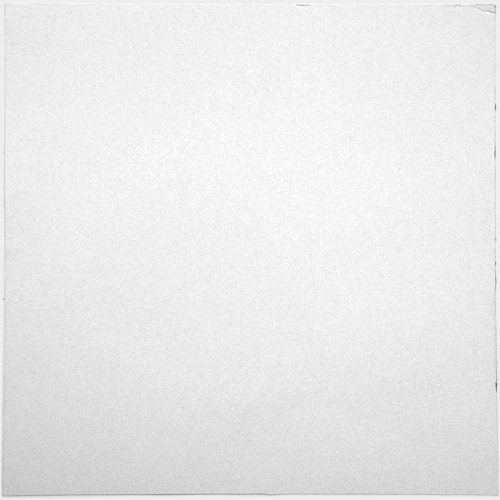 Pasting vector smart layers and changing them to the "multiply" fill method
Every print layer then gets two smart filters. The first is a little bit of gaussian blur. The second is a small lens correction. The camera lens I used for the paper shots created a slight distortion. I use photoshop's lens correction filter to distort the vector shapes in a similar way so they better fit into the photography. I do not know if anybody notices this microscopic touch, but it makes me feel really clever.
Textures

Adding texture
Then a layer mask is added to each color layer. These masks are used to add some texture. In real life these textures would be a result of small irregularities in the paper as well as in the silk screen. For this I collected a small number of free texture downloads from the web. They are mostly from "subtle grunge" at lostandtaken.com, an excellent free texture source. (Thank you very much, Caleb!) I inverted the images, so that they are mostly white with dark sprinkles. The dark parts poke holes of different intensity into the color layers so the colors beneath and the paper shine through. To round it off, I like to break the clean edges a bit more with tiny stabs with an irregularly-shaped brush. See that little hole on the right side of the bottom tip of the grey color triangle? In real life sometimes edges get blocked like that by dried color. So this is my way to simulate that in photoshop.
I put a lot of effort into this last step of texturing. Each graphic is different and needs a different style and intensity of textures.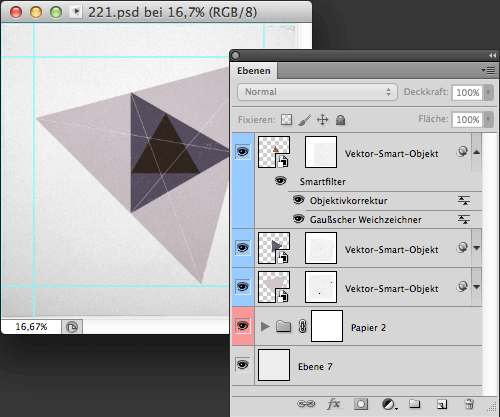 The final photoshop file
This is how the resulting file looks like. Nothing really sophisticated. I think the key is to do enough to make a visible change without overdoing it.
Why?
So why put all this work into the graphics at all? I love geometric graphics, but I also hate how they turn out on a digital display. I love to publish them on a website, but not in mere vector graphics. They look much too clean, perfect and computer-generated. They lack any connection to the real world. Just cold bits of data. If you turn off the display, they are gone without a trace. I want the shapes to look like the viewer could relate to them. Feel the texture of the canvas and the printed surfaces. Walk around the image, even if it is just two-dimensional.
I keep the processing to a minimum, but still this step is essential. I am sure that this changes radically how my graphics are received.
If you have further questions, do not hesitate to ask. You can use the comments below or reply to @tilman on Twitter. I plan to write some more in-depth posts about my Geometry Daily project in the next weeks. Thanks for reading!